History of Brooklet, Georgia
Brief History of Brooklet
Brooklet grew up around a stop on the Savannah and Statesboro Railroad. Established in 1899, it was the home of the county's first cotton gin outside of Statesboro. Incorporated in 1906, the town of Brooklet took its name from a winding brook around which the town was established.
On December 8, 1899, the Bulloch Herald made the following announcement: "Brooklet is the name of the new post office established at Parker and Cone's Store, nine miles below Statesboro on the Savannah and Statesboro Railroad with J.V. Lee as Postmaster." What had started as a farming community grew into a town when two railroads crossed where Railroad Street and Cone Street are now. In 1906 the town was chartered and the "Center of Town" was established at the 9-mile post of the Savannah and Statesboro (S&S) Railroad. The marker still stands on Lane Street between the First Baptist Chuch and the home of the late Richard WIlliams.
Churches and schools have always been a rich part of Brooklet's history. The first school was established in 1890 and churches sprung up as early as 1893 (Little Bethel Baptist Church), Brooklet Methodist Church in 1904, Brooklet Baptist in 1907, St. Mary's AME in 1907, Christian Church in 1909 (disbanded in 1954), and the Brooklet Primitive Baptist Church in 1914.
Until 1950 there were many stores in downtown Brooklet. These included as many as eight grocery stores, two drug stores and a furniture store. In the past we have had a theater, a 5&10 cent store, a barber shop, a freezer-locker with 250 bins to rent for frozen food storage. In one store you could buy a pair of shoes, a pound of sausage (meat was ground and stuffed in the store), material for a dress, a hoe or rake, a brooch or necklace — just about anything you could possibly want, all in one store! In fact, it was said, "If Jinks Denmark didn't have it, don't bother to look elsewhere."
Dot Roebuck and Jan Tankersley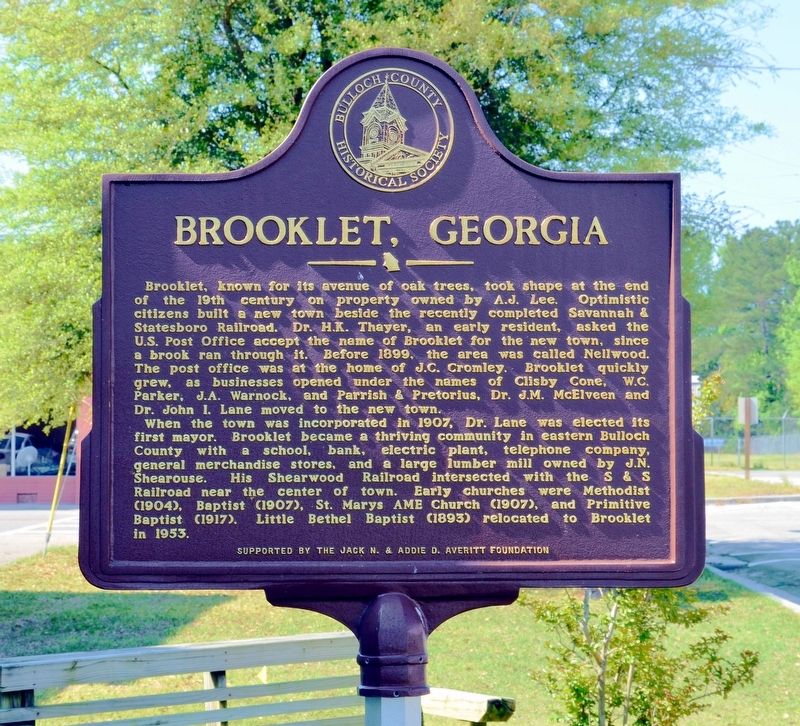 Locations
Brooklet, Georgia
104 Church Street
Brooklet, GA 30415